01 Jul

Sign Gypsies Now Offers Collegiate Signs in their Yard Greetings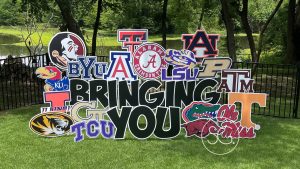 Sign Gypsies is the first and only yard greeting company to offer officially licensed collegiate products
CELINA, Texas (July 1, 2021) – Sign Gypsies announces their partnership with CLC, the licensing division for Learfield IMG College to bring officially licensed collegiate products to their signature yard greetings. The current list of schools includes almost 20 universities with future plans to add many more from across the country.
As the leader in collegiate trademark licensing, CLC is uniquely positioned to deliver consumer connections and brand visibility for collegiate institutions through impactful licensed merchandise strategies and innovative marketing platforms.
"The Sign Gypsies creative philosophy has always been one of respecting branding trademarks and images. We are thrilled to offer officially licensed collegiate signs to our franchisees and customers," said Stacey Hess, President and CEO of Sign Gypsies. "We are constantly looking ahead at trends and coming up with new ideas to keep our customers engaged and excited about our offerings."
"You can now show your support for your college student leaving in the fall or get ready for the big game this football season by booking your yard greeting with Sign Gypsies," said Hess.
Supplies will vary depending on location, customers will need to reach out to their neighborhood location owners to see what they have to offer in their community.
About Sign Gypsies
Sign Gypsies (SG) was founded in 2014 by Stacey Hess. With over 800 locations across 47 states and in Canada, SG is the largest and fastest-growing yard greeting company, with a 92% retention rate for its locations. Our team prides itself on delivering customizable experiences through high-quality products and unbeatable customer service. Sign Gypsies' rentals spread joy and connect with the communities they serve. Yard greetings are ideal for homes, schools, and businesses so whatever you're ready to say next, say it with Sign Gypsies! For more information, please visit SignGypsies.com. Ready. Set. Celebrate!
About Licensing Partners International
Licensing Partners International (LPI) provides world-class trademark licensing and brand development services that elevate brands and foster greater brand loyalty. LPI delivers enhanced consumer connections through best-in-class brand extension platforms, traditional and e-commerce retail, and innovative marketing and brand storytelling. LPI partners with leading sports, entertainment, consumer, and lifestyle brands to develop customized branded merchandise programs and provide industry-leading brand management tools and resources. Backed by nearly 40 years of brand licensing experience, industry relationships, and expertise, Licensing Partners International is an affiliate of CLC, a division of Learfield IMG College.
###