19 Nov

SG YARD GREETINGS GROWTH IS CELEBRATED AS A WINNER OF THE 2021 DALLAS 100™ ENTREPRENEUR AWARDS

The franchise company has grown 382% over three years, and the trajectory is set to continue.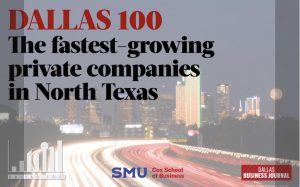 Celina, TX, September 30, 2021 – SG Yard Greetings today announced it has been named to the Caruth Institute for Entrepreneurship at the SMU Cox School of Business list of the fastest-growing, most dynamic, privately-held companies in the Dallas-Fort Worth area. This year alone founder, president and CEO Stacey Hess has been recognized as EY Entrepreneur Of The Year® 2021 Southwest Award Finalist, and SG Yard Greetings made the Inc. 5000 list of fastest growing private companies in the United States, solidifying the company's position as the largest yard greeting company in the world. SG Yard Greetings came in at 32 on the Dallas 100™ list.
"Being on the 2021 Dallas 100™ is an honor and I'm proud SG Yard Greetings stands alongside innovative and exceptional companies. I started Sign Gypsies in 2014 when I saw an opportunity to spread a little joy and bring my community together," said Stacey Hess, SG Yard Greetings founder and CEO. "Seven years in we have over 800 locations internationally with a waiting list of franchisee candidates. We are the largest yard greeting company in the world with franchisees across North America. I am so proud of my team and what we have built in such a short time."
To qualify for the Dallas 100™, companies must be headquartered in DFW, be independent, privately held corporations, proprietorships or partnerships, and are judged on their sales growth over the last three years.
"Our innovation, creativity, customer service, franchisees and customer experience is what sets us apart. It's also why we have such a high retention rate for our franchisees — 92% since we started — and why we have so much repeat business from customers. We have to surprise and delight our customers with an experience beyond their expectation," said Hess.
About The Dallas 100 Entrepreneur Awards
Co-founded by the Caruth Institute for Entrepreneurship in 1990, the Dallas 100™ Awards is an annual event that identifies and honors the 100 fastest-growing privately held companies in the Dallas area. For more information on The Dallas 100, visit http://www.smu.edu/Cox/CentersAndInstitutes/CaruthInstituteForEntrepreneurship/Dallas100.
ABOUT SG YARD GREETINGS
SG Yard Greetings is a yard greeting and display rental company. Life is made up of special moments and SG Yard Greetings turns those moments into memories. Birthdays, anniversaries, gender reveals, birth announcements, promposals, corporate events, holidays, game weekends, thank yous – any reason to celebrate. SG Yard Greeting will design and install your custom yard greetings with industry-leading innovation, creativity and white-glove customer service. Founded in 2014 and franchising since 2019, SG Yard Greetings continues its rapid growth trajectory across 47 states, 800+ locations and internationally. Our exclusive agreement Collegiate Licensing Company allows SG Yard Greeting clients to celebrate with their college or university logo. SG Yard Greetings is recognized by EY in its 2021 Entrepreneur Of The Year program, and in the 2021 INC.Magazine 5,000 list of fast-growing private companies. Let SG Yard Greetings make your moments into memories today at sgyardgreetings.com.
Contact: Jessica Moore, jessica@allynmedia.com, 214-457-3616